Prayer Corner
Third Finding of the Precious Head of St. John the Baptist
Visit the
Prayer Corner
for more daily readings, prayers, and more.
Third Finding of the Precious Head of St. John the Baptist; Carpos and Alphaeus, Apostles of the 70; Alexandros the New Martyr of Thessaloniki; George the New of Sofia; Augustine, Archbishop of Canterbury
You are viewing the New Calendar Readings. View the
Old Calendar
Spiritual Reading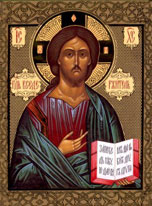 In Sofia, the capital city of Bulgaria, stands one of the largest Orthodox Churches in the world – St. Alexander Nevsky Cathedral.  It is not only the cathedral church of the Patriarch of Bulgaria but a national shrine, symbol of the Bulgarian nation and a main tourist attraction.  If you visited the cathedral between the approximate years of 2000 – 2018 you would have been greeted by a poorly dressed, elderly man, holding a plastic cup who seemed to be just another homeless beggar.  This man was Dobri Dobrev, sometimes called "Elder Dobri" or "Grandpa Dobri".  This simple man walked 12 miles each day from the village of Bailovo to the cathedral to beg money.  Read more...