Prayer Corner
Nicholas the Wonderworker, Archbishop of Myra
Visit the
Prayer Corner
for more daily readings, prayers, and more.
Nicholas the Wonderworker, Archbishop of Myra; Nicholas the New Martyr of Asia Minor
You are viewing the New Calendar Readings. View the
Old Calendar
Spiritual Reading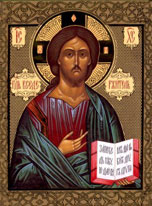 The focus of this great feast is the Lord's baptism in the river Jordan by St. John the Forerunner. Another name for the feast is Theophany, for it is shown—it is revealed at Jesus Christ's baptism—that He is the Son of God. Indeed, the Holy Trinity is revealed at His baptism, for the Father says, "This is my beloved Son in whom I am well pleased," and the Holy Spirit descends upon Him in the form of a dove. Read more...