Prayer Corner
Monday of the 10th Week
Visit the
Prayer Corner
for more daily readings, prayers, and more.
The Forefeast of the Presentation of the Theotokos into the Temple; Gregory the Righteous of Decapolis; Proclus, Archbishop of Constantinople
You are viewing the New Calendar Readings. View the
Old Calendar
Spiritual Reading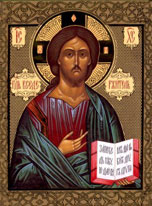 Monday, November 13, 2023
The Fast of the Nativity is the Church's wise solace and aid to human infirmity. We are a forgetful people, but our forgetfulness is not unknown to God; and our hearts with all their misconceptions and weakened understandings are not unfamiliar to the Holy Spirit who guides and sustains this Church. We who fall far from God through the magnitude of our sin, are called nonetheless to be close to Him. We who run afar off are called to return. Read more...