St. Sebastian (Dabovich) of San Francisco 1863-1940
St. Steven Serbian Orthodox Cathedral in Alhambra, California was the setting on September 5-6, 2015 for the canonization of Father Sebastian Dabovich as the newest Orthodox saint of America. His Holiness, Patriarch Irinej of Serbia led the liturgical celebration with the participation of His Eminence, Archbishop Demetrios of the Greek Orthodox Archdiocese and hundreds of bishops, priests, and faithful from around the world. St. Sebastian was honored as the "Serbian Orthodox Apostle to America" for his imitation of the Apostles in his missionary labors among Serbian and other immigrants across the United States.
Born in San Francisco with the name Jovan (John) during the time of the Civil War, his parents were immigrants from Serbia who operated a store and later a wholesale fruit business. At the time of his birth there was no Orthodox Church in San Francisco so the infant Jovan was baptized in the chapel of a Russian Imperial Navy ship which was anchored in San Francisco Bay. It was only in 1868 that a priest was assigned to organize a parish for the Orthodox Christians and in 1872 Bishop John (Mitropolsky) of Alaska moved his headquarters from Alaska to San Francisco. With an active parish life now established in the city, young Jovan became dedicated to the church and attended every service. It was his desire from a very young age to serve God as a priest and never wavered from his intention. He attended the Mission School which Bishop John had established and became proficient in Russian, Church Slavonic and Greek. Following his high school graduation, Jovan served the San Francisco parish as a reader and chanter and in 1884 moved to Sitka, Alaska to continue these responsibilities. While in Alaska he organized a mission to share the Orthodox Gospel of Christ with the native Tlingit tribe in the area that is now the state capital – Juneau.
During his stay in Alaska, Jovan decided to enter the seminary in preparation for the priesthood and from 1885 till 1888 he was enrolled in the St. Petersburg and Kiev Theological Academies. He was tonsured a monk with the name "Sebastian" while in Russia and ordained a deacon. He returned to San Francisco in 1889 and was ordained a priest in 1892.
Missionary Labor
Rather than seek a comfortable, established parish, the new priest requested an assignment as a missionary to the scattered Orthodox believers throughout the western United States. Within a week after ordination he began missionary journeys as far north as Vancouver, British Columbia and as far south as San Diego. Although he was of Serbian ethnic background, he was fluent in English, Russian, and some Greek and he ministered to all Orthodox Christians he encountered including non-Orthodox. He especially reached out to members of the Episcopal Church who, at that time, were showing a great interest in the Orthodox Faith. He was instrumental in establishing Orthodox parishes in California, Oregon, Washington, Montana, Arizona, Illinois. In the words of his biographer, Bishop Irinej (Dobrijevic):
Without any outside funding or organizational support, he carried the gospel of peace from country to country....Concentrating much of his work in the United States, he ceaselessly traveled back and forth across the American continent, using every available mode of transportation – from stagecoach to railroad to foot. His wider ministry stretched from the Aleutian Peninsula of Alaska, to Russia and Japan, to small Balkan towns on the costs of the Black and Adriatic Seas.
Despite his heavy schedule of missionary journeys, he found the time to produce one of the first English translations of the Divine Liturgy. He also published English language books on the Orthodox Faith, the divine services, Lives of the Saints, sermons and the first English translation of the Life of St. Innocent of Alaska.
Interestingly, he accompanied his Bishop Nicholas to the White House in 1897 when he served as a translator with President William McKinley. The bishop asked for a meeting with the President to express his concerns over the confiscation of church property in Alaska and the treatment of the native Orthodox Christians of Alaska who were being forced to work on Sundays and feastdays.
Misunderstandings with Carpatho-Rusyns
In 1891 Father Alexis Toth (now St. Alexis) was received into the Orthodox Faith from the Uniate Greek Catholic Church along with his entire congregation in Minneapolis. In 1893, Father Alexis requested an assistant priest for his congregation so that he could be travel to Wilkes-Barre, Pennsylvania to assist that community in also embracing the Orthodox Faith. Unfortunately, soon after Father Sebastian's arrival, he was embroiled in a parish controversy that led to the ouster of St. Alexis. It was the custom among the Carpatho-Rusyns to give a gift (treby) to the priest on the celebration of a baptism, wedding or funeral. For a period after his conversion to the Orthodox Faith, Father Alexis received no salary and survived only with these small gifts. Father Sebastian was unacquainted with this custom and refused to take these gifts from the parish faithful which led the Minneapolis faithful to think that Father Alexis was cheating or deceiving them by accepting these gifts and was derided as "a dollar grabber". In addition it seems that Father Sebastian was unacquainted with the many Latin practices that had crept into the Minneapolis parish and moved too quickly to correct them. In a letter to his bishop, Father Alexis wrote:
...I requested that Your Eminence would for the time being, until I could finish matters in Wilkes-Barre, send to Minneapolis a helper – and I received Father Sebastian Dabovich, whose first action in my parish was to begin independent work and to introduce such rules which should only be introduced gradually over a period of time, but in no way in a parish which just united with Orthodox otherwise disorder would ensure, which was what happened...
Opposition
A new bishop arrived in 1898 to serve the American mission – Bishop Tikhon (later canonized as St. Patriarch Tikhon) who set about re-structuring the American mission. With growing numbers of Orthodox immigrants arriving on the American shores, Bishop Tikhon sought to meet the needs of his multi-ethnic flock consisting of Russians, Serbs, Carpatho-Rusyns, Greeks, and Arabs. He consecrated an assistant bishop to serve the Arab flock – Bishop Raphael (Hawaweeny), (later canonized as St. Raphael of Brooklyn) and he proposed Fr. Sebastian as the assistant bishop for the Serbian people. Bishop Tikhon's plans were not to be fulfilled as the saint faced increasing opposition and hostility from his own people. Prior to his departure from America back to Russia, St. Tikhon expressed his appreciation for the ministry of Father Sebastian. St. Nicholas of Zhica, a Serbian bishop in America in later decades wrote:
Archimandrite Dabovich could have been a bishop even in 1907. The Russian archbishop wanted to consecrate him as Russian bishop for the Serbian people. But the Serbs did not want it that way. Archbishop Tikhon was sorry about that. He was eager to show his appreciation to Fr. Dabovich for all his wonderful work. Failing to make him a bishop, he did something else. Once when he celebrated the Holy Liturgy in the Serbian Church in Chicago, he presented our archimandrite with a precious mitre, which was worthy 1,000 rubles in gold. But Fr. Dabovich quickly sold that precious gift and gave it to the church towards paying its debts. Such a man was he. He was absolutely unselfish.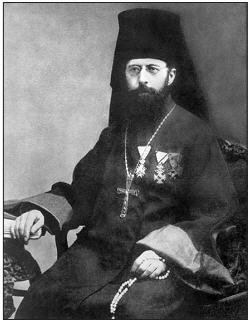 As the administrator of the Serbian Orthodox Mission which functioned under the blessing of the Russian bishop in America (the only Orthodox bishop in America at that time), Father Sebastian was accused of being a "Russophile" and the Serbian Mission "a totally Russophile agency". His own Serbian people rejected his authority and attempts to provide pastoral care to the Serbian immigrants despite the fact that there were no Serbian bishops in America to take leadership. Fr. Sebastian had loyalty and devotion only to Christ and His Church and his only desire was that his Serbian people be cared for and nourished in their Orthodox Faith. He took seriously and lived the command of the Lord: "Go therefore and teach all nations..." (Matt. 28:19) Exhausted by the futility of his efforts, in 1909 he wrote to the Holy Synod of Bishops in Serbia:
Most Serbs have said that they do not want any other jurisdiction, not even Russian, but their own Serbian Church jurisdiction. On this day I am submitting to North American Archbishop Platon my resignation as administrator of the Serbian Mission, for I am exhausted from the effort and cannot oppose a multitude single-handed...
Leaving behind the stress and disappointments of his pastoral leadership role, Fr. Sebastian returned to his missionary work, this time focusing on the state of California: Los Angeles, Fresno, Oakland. The year 1913 found him in New Jersey teaching at the new St. Platon's Orthodox Theological Seminary. With the outbreak of World War I, Fr. Sebastian was in Serbia to minister to his suffering people and served as a chaplain in the Serbian Army. In the years following, he traveled many times between America and Serbia. Meeting with St. Nicholas of Zhicha in New York City in 1921, St. Nicholas wrote of him:
His poverty amazed me when I met him...I invited him to lunch. Blushing, he said, "Thank you; I just bought a roll of bread with my last five cents." And salary? None. He lived on people's freely given donations. And still, even with empty pockets, he planned new journeys to Alaska, to Japan, and of course, to Europe.
His Repose
Coming to the close of his life, Father Sebastian remained in Serbian, eventually settling in the monastery at Zhicha. In a letter to an American friend he wrote:
My body is getting weaker and weaker. I would like to see once more the Golden Gate. All my dearest memories from childhood are concentrated in San Francisco and in the country in which I was born.
As he approached the end, he was asked "Do you have any wish, Father? His final words were: "Only the Kingdom of Heaven". He died peacefully on November 30, 1940 and was buried in the monastery's cemetery. His holy relics were transferred back to America and are enshrined in the parish he established in Jackson, California.
- Father Edward Pehanich